Ode to the cubic cuts
— poem by Simon Andersen
There are four sections cutting thru the cube/
which interest the origamian./
The hexahedron is the quadrate tube/
whose long broad high are just the same again.

As life is folded from the primal bog/
the square evolves the lotus, fish and frog./
The triangle makes a brilliant horse/
also a lion to chase it of course.

The hexagon makes hexaflexagon/
its points are four legs and a head and tail./
But the rectangle of the long section/
is the true silver or A rectangle.

It gives a world of human things to fold/
A4 all colours that is paper world.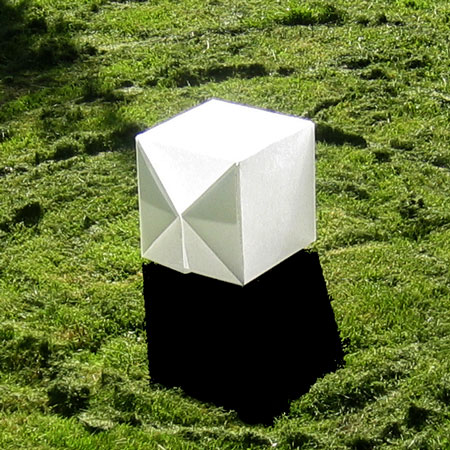 Waterbomb
It literally stands on its own solid shadow. Folded from woven glass, 1x1 meter of the wallpaper type, the cube itself is light and etherical.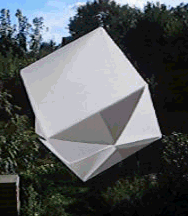 Waterbomb in the wind
Swinging in the wind, and glowing in the sun. A happy day.